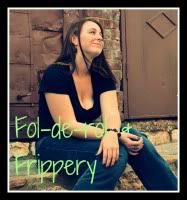 I'm Sara, I'm 27 and live in Columbia, Missouri, with my boyfriend, Deven, and our two furry children, Cooper (our dog) and Freckles (our cat). I love reading, crafting, sci-fi (I'm a gigantic Doctor Who fan), cooking, and of course blogging.
My blog
Fol-de-rol & Frippery
is all about saving money both on your home and yourself without having to compromise because you don't have much to spend. We have really had to focus on saving money wherever we can in the past few years and I love being able to help pass what I have learned on to people who might be struggling with money woes themselves or are just looking to save a little money.
Here are some of her recent posts:
Homemade Febreze
DIY Peel Off Pore Cleaning Mask
Pancake Squares
You can follow Sara here:
Fol-de-rol & Frippery
Facebook
*************************
If you are want to be my sponsor spotlight or are interested in sponsoring me please
take a look here
for more information
Linking to some of these great parties

Want to see your button here?
Click here for more info